Through funding from USAID, FPD implemented a community-based HIV counselling and testing project. The overarching goal of the programme was to implement high yield, community-based HIV counselling and testing (CBCT) services with an aim to identify People Living with HIV (PLHIV) and to effectively link them into HIV and TB care and treatment programmes. By implementing CBCT modalities in high incidence communities near where people live and work, CBCT complemented facility-based HIV Testing Services (HTS) and reached HIV positive community members who may not access HTS in the health facility setting. The community-based HIV counselling and testing programme (CBCT) offered HIV testing in six provinces within 13 selected districts (Tshwane, Bojanala, COJ, Sedibeng, Capricorn, Mopani, Ehlanzeni, Gert Sibande, eThekwini, Ugu, King Cetswhayo, Zululand, Buffalo City) covering 33 sub districts working with SUB partners: SFH and HPPSA.
Building on a concept described by Chang et al. CBCT is implemented using a "combination implementation" approach. Combination implementation in the context of CBCT is defined as the pragmatic, localised application of a coordinated package of evidence-based HTS modalities delivered at community level using optimised implementation and operational strategies to achieve high yield. The identified high yield HTS modalities for CBCT include targeted home-based HTS, index patient trailing HTS, mobile HTS (including near-home, workplace and twilight implementation models). The CBCT combination implementation approach layers three to four complementary, high yield HTS modalities within a single sub-district with an aim to reach a maximum number of PLHIV and rapidly facilitate their entry into facility-based HIV care and treatment programmes; the programme also aimed to identify HIV negative individuals at high risk of HIV infection and rapidly facilitate their entry into combination prevention programmes (MMC,PrEP, SRH/ FP, SGBV, and NCD). This project ended in 31 December 2018.
FPD HTS Social Franchise Model
Under the umbrella of CBCT, FPD designed an innovative system of delivering HTS through the social franchise HTS (SFHTS) model which organises local entrepreneurs to deliver standards-based HTS services (inclusive of a basic package of care and linkage services) under a common brand.
The SFHTS model was implemented as a pilot in Tshwane district where a district-based franchisor (FPD) is based. FPD systematise and prescribe standards for HTS, proficiency, counselling, health education, referral and linkage as well as manage and oversee the quality assurance of social-franchisees (SFs).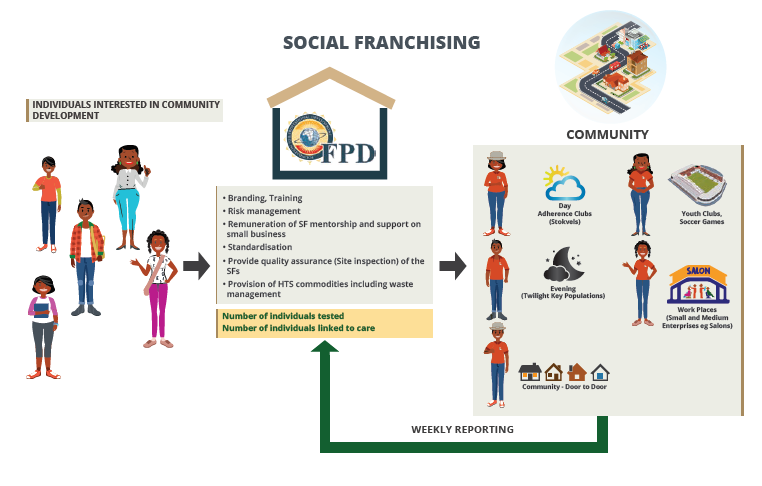 Possible benefits of HTS Social Franchise model are:
Whether giving a supplier (franchisee) incentives increases uptake/ new outcomes of HCT, especially the first time testers, compared those care workers receiving a constant salary
Easily learned, and scalable (duplicable)
Contracting those suppliers in the community working at convenient times (for the client)
Increases access to first time testers and those that have defaulted treatment
Increased effort in reaching key populations and getting the positive clients
Focused support to clients, by franchisees, increases number of clients linked to care
A CBCT mobile data management system can be used to improve monitoring and evaluation system
Key results from FPD's USAID/PEPFAR CBCT programme (October 2013 – September 2018) include:
The USAID funded project closed-out officially in December 2018 after implementation of five years with successful results indicated below:
Overall 2 165 951 individuals were tested for HIV surpassing the target by 24%
Over 146 000 individuals infected with HIV were identified
Overall project positivity rate of 6.9%
A successful implementation of index client trailing modality with 109 573 tested through index modality and a 12.7% positivity rate through this modality.
A total of 91 098 (62%) of individuals infected with HIV were successfully linked to treatment and care in the five years.