The overarching goal of FPD's CB-HTS programmes is to implement high yield, community-based HIV counselling and testing (CBCT) services with an aim to identify People Living with HIV (PLHIV) and to effectively link them into HIV and TB care and treatment programs. By implementing CBCT modalities in high incident communities near where people live and work, CBCT complements facility-based HIV Testing and Counselling (HTC) and reaches HIV positive community members who may not access HTC services in the health facility setting. CBCT is implemented using a "combination implementation" approach. Combination implementation in the context of CBCT is defined as the pragmatic, localized application of a coordinated package of evidence-based HTC modalities delivered at community level using optimized implementation and operational strategies to achieve high HIV yield and high levels of documented successful linkage to HIV prevention, care and treatment services.
The identified high yield HTC modalities for CBCT include: systematic home-based HTC, index patient HTC, mobile HTC (including near-home, workplace and twilight implementation models), HIV self-testing (HIVST) and a social franchise model to deliver HTC (SFHTC). The latter two modalities (HIVST and SFHTC) are demonstration projects aimed to build evidence and inform strategies for scale. The CBCT combination implementation approach layers three to six complementary, high yield HTC modalities within a single sub-district with an aim to reach a maximum number of PLHIV and rapidly facilitate their entry into facility-based HIV care and treatment programs; the program also aims to identify HIV negative individuals at high risk of HIV infection and rapidly facilitate their entry into combination prevention programs (MMC, SRH/FP, SGBV).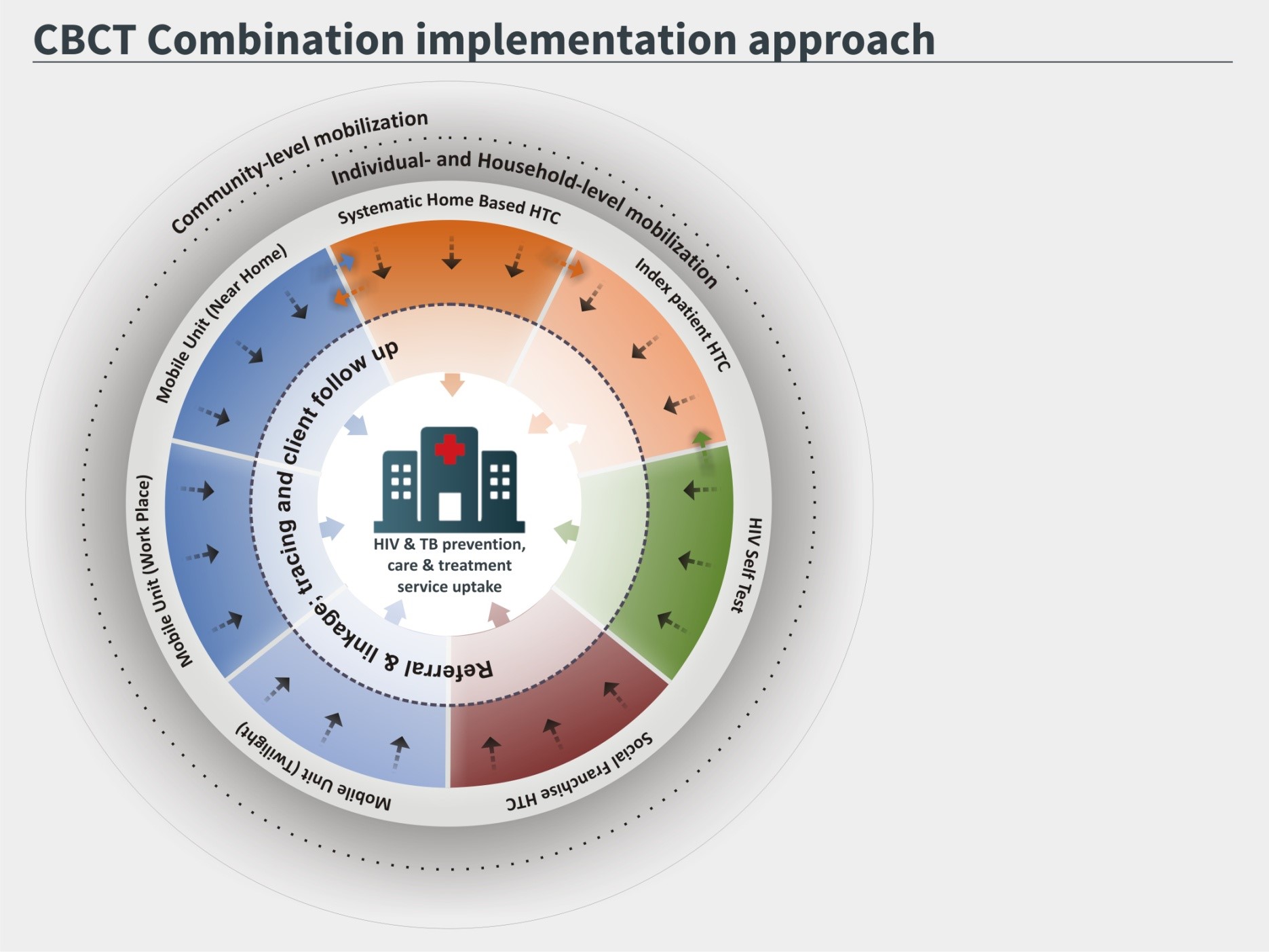 Key statistics from FPD's USAID/PEPFAR CBCT programme (July-June 2016) include:
589,646 clients tested for HIV
32,200 PLHIV diagnosed with HIV
District HIV positivity rates ranged from 3.2% to 11/2%
During 2016, FPD expanded its CB-HTS capacity through securing funding from three new donors. Through these new funding schemes, FPD expanded CB-HTS to cover a total of twenty districts and six provinces.
USAID/PEPFAR
Community-Based HIV testing targeting high HIV burden communities and populations; thirteen districts (Tshwane, Bojanala, COJ, Sedibeng, Capricorn, Mopani*, Enhlanzeni*, Gert Sibande*, eThekwini*, Ugu*, Uthungulu, Zululand, Buffalo City) working with SUBs*: SFH, FHI360, HPPSA
SCI/GF
Community-Based HIV testing and Sexual Reproductive Health and Family Planning targetting Adolescent Girls and Young Women; two districts (Tshwane, Bojanala)
KFW/NDOH
Community Based Organization capacity development for HTS and Community-Based HIV Testing Services for priority populations; 5 districts (Nkangala, Bu-ffalo City*, OR Tambo*, Chris Hani*, Sarah Baartman*) working with SUBs*: HPPSA, KI
CDC/PEPFAR
Programmatic implementation and TA for HIV/AIDS and TB Prevention, Care and Treatment Services (CDC) : HIV Testing Services, Priority Population Prevention and below-the-line communication in support of 90-90-90 ; 7 districts (Bojanala, Dr. KK*, NMM*, Ehlanzeni*,Gert Sibande*, Nkangala* & Waterberg*) working with SUBs: Careworks & CCI
CENTRE FOR DISEASE CONTROL AND PREVENTION
Programmatic implementation and Technical Assistance (TA) for HIV/AIDS and Tuberculosis(TB) Prevention, Care and Treatment Services throughout the Health System in South Africa under the President's Emergency Plan for AIDS Relief (PEPFAR)
FPD secured funding on 29 September 2016 from CDC to implement this comprehensive program over a period five years. FPD is the prime recipient with CareWorks and Center for Communication Impact (CCI) as sub recipients. The program aims to implement priority population prevention (PP_Prev) and community-based HIV Testing Services (HTS) with an aim to identify People Living with HIV (PLHIV) and effectively link them into HIV and TB care and treatment programs and link Prevention Yield into prevention programs. The second goal is to develop and test a scalable below-the-line communication strategy to promote ART patient adherence and retention in support of the 90-90-90.
FPD and CareWorks provide HTS and PP_Prev services in ten sub-districts (7 districts) of three provinces while CCI works with National Department of Health in close collaboration with the PHILA national communication strategic team to develop the adherence communication strategy for people who live with HIV and health care workers.