The Research Unit published two scientific articles in peer-reviewed journals in the field of HIV, sexually transmitted infections (STIs) and tuberculosis (TB) as their core focus areas of research. Prof Remco Peters wrote about the interactions of antiretroviral therapy (ART) at time of conception in HIV-infected individuals, STIs and the occurrence of adverse pregnancy outcomes (https://academic.oup.com/cid/advance-article-abstract/doi/10.1093/cid/ciaa1669/5944071?redirectedFrom=fulltext), highlighting the importance of addressing the burden of STIs in pregnant women in South Africa. Dana Bresenham published a manuscript about the effect of stigma on tuberculosis testing and follow-up and the importance to develop interventions to reduce stigma associated with tuberculosis in the community (https://www.ncbi.nlm.nih.gov/pmc/articles/PMC7579945/pdf/40249_2020_Article_762.pdf). This important topic is taken forward in to a new large research project that will commence early 2021.
An opinion piece was published by Prof Remco Peters in The Conversation discussing the potential threat of drug-resistant gonorrhoea in South Africa (https://theconversation.com/drug-resistant-gonorrhoea-is-a-growing-threat-a-south-african-case-study-148012). Antimicrobial resistance, in particular related to STIs, is an important field of research in the Unit.
In follow-up of the current community-based implementation study of PrEP to prevent HIV in adolescent girls in the Buffalo City Metro, the clinical trials team of the Research Unit was invited to be part of a study of novel PrEP medication for women at high-risk of HIV infection in South Africa. This constitutes an important milestone for the Research Unit and the team is working hard to prepare for it in the coming months.
FPD's Epidemiology and Research Department was established in 2014, and is tasked with applying rigorous, epidemiologic methods to study, advance, and inform public health programmes and policy development.
The Epidemiology and Research Department has a strategic focus on the following research areas:
Prevention of Mother-To-Child Transmission of HIV (PMTCT)
STI screening during pregnancy
HIV prevention in adolescents
TB case finding and the TB continuum of care
Mental health
Social determinants of health, with a specific focus on stigma
Our strategic goals are to:
Develop and conduct rigorous scientific and epidemiologic research
Advance evidence-based policy recommendations
Develop local, regional and international partnerships that bring expertise to bear on issues of South African public health importance
Cultivate current and next generation public health researchers and epidemiologists through training and mentorship
Contribute to the global body of scientific knowledge that directly informs public
During 2018, FPD received funding from the US NIH and USAID to:
Investigate STIs in HIV-positive pregnant women and the impact on MTCT of HIV
Determine the acceptability and feasibility of home-based TB case finding and testing using the new GeneXpert Omni instrument
Evaluating an intervention integrating economic strengthening and HIV prevention programmes for vulnerable youth
Leverage community-based platforms to improve access and adherence to PrEP
Validate TB stigma measures to assess the impact of stigma on TB outcomes
Determine employment preferences of healthcare workers providing HIV treatment and care services in South Africa as part of the Human Resources for Health in 2030 assessment
A phased implementation of a public health programme: cryptococcal antigen screening and treatment in South Africa
The validation of a mental health screening tool to be used in Mozambique as part of the PRIDE SSA Project
The FPD Research Team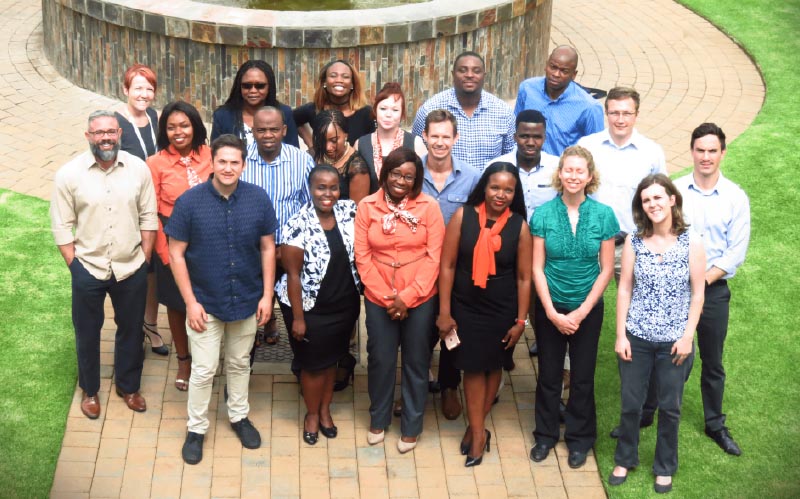 Grants Awarded
Investigating the acceptability, feasibility and outcomes of home-based TB testing of household contacts using a new, mobile point of care technology.
NIH Grant number: 1R21EB 023679-01
Pilot Study of Sexually Transmitted Infection Screening for Prevention of Mother-to-ChildTransmission of HIV.
NIH Grant number: 1R21HD084274-01A1
A randomized study evaluating an intervention integrating economic strengthening and HIV prevention programs for vulnerable youth in South Africa.
USAID Grant number: AID-OAA-LA-13-00001
Financial Conflict of interest Policy